KS2, KS3: History, Literacy, Drama, Geography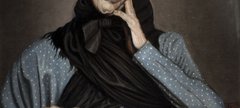 Until Wednesday 30 December
Maximum 30 children per session.
Workshop length 1 hour 30 minutes- £90.00.
Booking essential: maximum 32 children.
If you would like to make an on-line enquiry for this workshop please complete the enquiry form, or if you wish to speak with one of our learning team to discuss your visit please call the learning team on 0191 2115599.
Did you know that 18lbs of tea could be worn under the cape or petticoat trouser of a fisherman or woman? Find out about characteristic features of the smuggling trade.
This work shop covers the rise and spread of smuggling activity in Britain from the 13th century to present day. Local South Shields characters known for smuggling; Jack the Blaster and Dolly Peel, amongst others, are also explored. Through active discussion, analysis of paintings and prints from our collection, singing and role play, children gain knowledge and understanding of what it was like to be part of the smuggling trade in the North East, the consequences, and its effects on the economy. Suitable for Key Stages 2 and 3