Sheila from Shields, her cat and the rainbow
Introduction to the exhibition
81 years of Sheila Graber's inspirational art and animation

Until Saturday 30 October
Open during normal gallery opening hours
Donations welcome, free entry
Find out about planning your visit >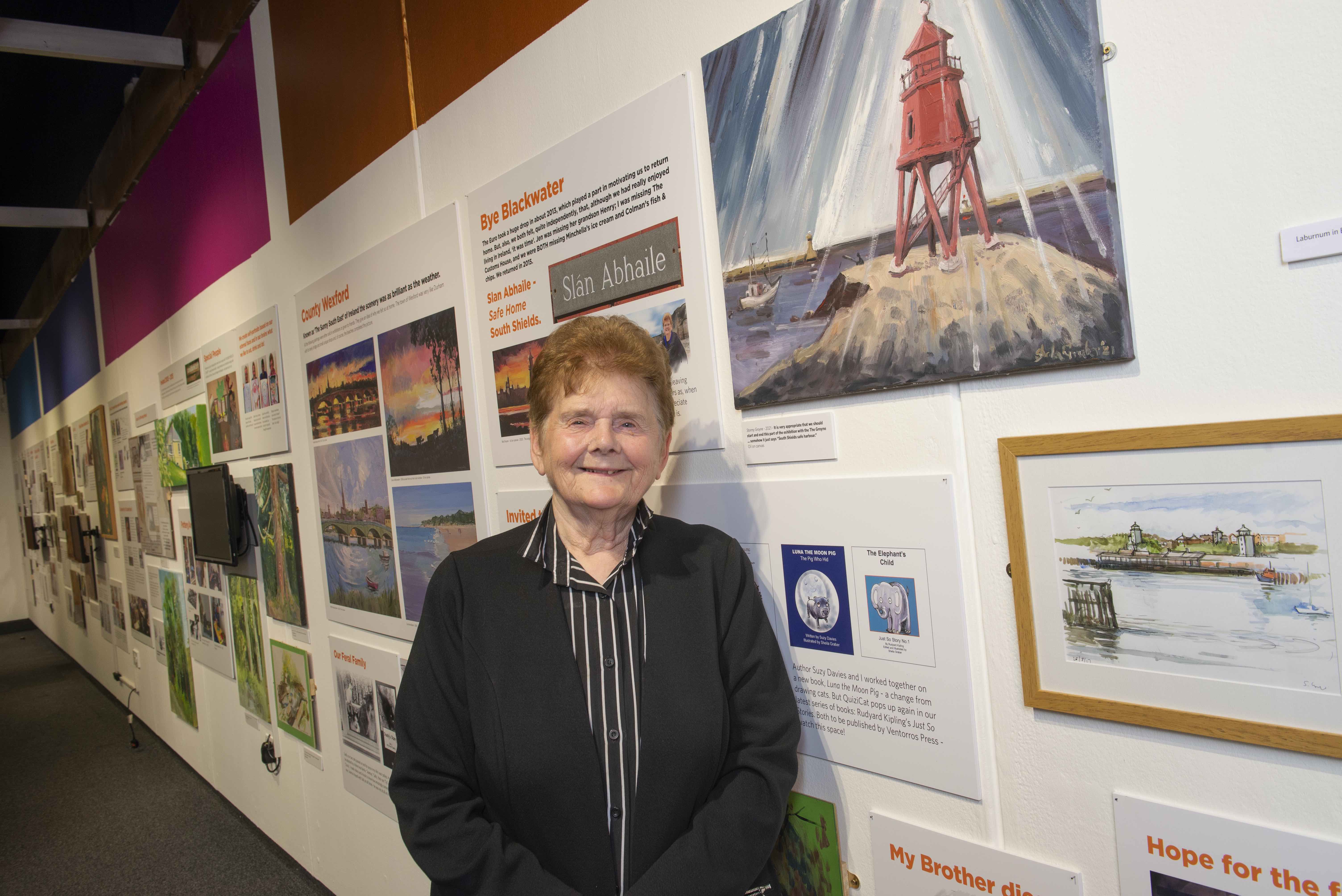 Sheila Graber's major retrospective exhibition marking her 80th birthday, which was originally scheduled for May 2020, is now set to be unveiled when the museum reopens. During the Covid 19 pandemic Graber has reflected further on her artistic journey and re-shaped the themes and content of the exhibition to heighten their relevance for today.
This family-friendly exhibition brings together the full range of Graber's engaging and passionate work, including landscapes, portraits and delightful animations. Her playful and humorous cartoon cat companion features throughout. The South Shields artist is also a great champion of the creativity that exists in us all and has encouraged and inspired countless others. As well as celebrating Graber's own work, the exhibition will capture her wider impact and offer the opportunity for everyone to try their hand at creating an artwork.
Sheila Graber said: "My Aunty Mabel, who lived to be 102, said 'Everyone needs something to pass the time.'. I reckon we have all found this to be hugely true throughout this past locked down year. 'Making things' has kept many of us sane, and my exhibition proves the important role 'making' plays in all our lives. I've been planning this show for 4 years now - and it seems I am about to reach my goal - largely thanks to a great saying of my Mam's that I have tried to follow all my 81 years 'Never, never, never give up!'."

Find out more about the exhibition
Exhibitions Unpacked: Sheila From Shields
Pam Royle discusses 'Sheila from Shields, her cat and the rainbow'
Ray Spencer discusses 'Sheila from Shields, her cat and the rainbow'
A sneak peak of what's on show