A taster for the upcoming 80-year retrospective of the award-winning Sheila Graber from South Tyneside (and her cat).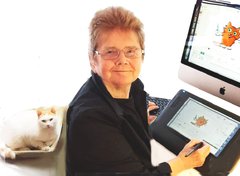 As our region has been placed in Coronavirus Tier 3, our venues will remain closed until the government announces that we can move to Tier 2 or other changes are made to the rules.
This family friendly mini-exhibition offers a window into Sheila's world and a taster of the larger retrospective to come - her art and animation, her passion and her humour, and last but certainly not least, her faithful cartoon cat companion, Quizicat.
The exhibition will display original artworks available to purchase in support of South Shields Museum & Art Gallery.