Sheila's Mini Mewseum Show - animal activity
Children's activities inspired by Sheila's Mini Mewseum Show, to be enjoyed at your own pace at home.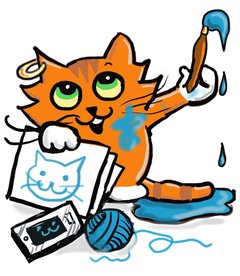 What is your favourite animal? Is it your pet or an animal you have seen at the zoo or at the park? Draw a picture, or write a description.
Look at the drawing above for inspiration. The artist and animator Shelia Graber created this curious cat to act as a fun guide in her books, interactive apps for children and as your guide in the exhibition Sheila from Shields, her cat and the rainbow.
Make and share your creations with us. Tag us on Twitter at @S_ShieldsMuseum, or post them on our Facebook page.