Sheila's Mini Mewseum Show - nature activity
Children's activities inspired by Sheila's Mini Mewseum Show, to be enjoyed at your own pace at home.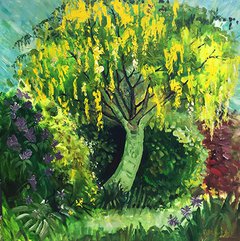 Do you have a special tree that has been important in your life? Is it in your garden or your favourite park? Why is it so special?
Why not get a bit of fresh air and gather colourful leaves from your favourite trees and make a picture of something that might live in a tree or garden using the leaves.
Look at the painting above for inspiration. This painting is called Laburnum Tree and was painted by Sheila Graber. The tree sits in Sheila's garden in South Shields. She follows the tree throughout the seasons - in Summer it explodes into golden colours.
Make and share your creations with us. Tag us on Twitter at @S_ShieldsMuseum, or post them on our Facebook page.