A 'Sheila from Shields' exhibition workshop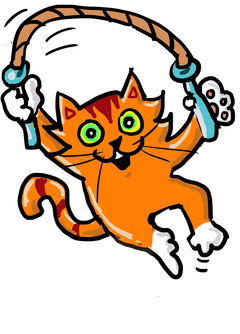 Donations welcome, free entry
Have a go a at classic games such as Skippies, American Skippies, 2/3 Balls, Hop Scotch and several other street games that have been lost to current generations.
Due to the current Covid-19 guidelines we have made some changes to how we run our family events. We want to make sure they are as safe as possible, so all events have been planned in line with Covid restrictions.

---
These workshops are part of the exhibition 'Sheila from Shields, her cat and the rainbow', Click here for further information about 'Sheila from Shields, her cat and the rainbow' exhibition.
This family-friendly exhibition brings together the full range of Graber's engaging and passionate work, including landscapes, portraits and delightful animations. Her playful and humorous cartoon cat companion features throughout. The South Shields artist is also a great champion of the creativity that exists in us all and has encouraged and inspired countless others.