Ways to Play: Tremendous Tuesdays Summer Activities 2022
Weekly boat-themed crafts and activities inspired by our new exhibition - Pushing the Boat Out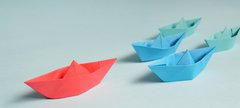 Time
Drop in 11am-3pm.
Price
Donations welcome (free entry).
Drop in, no booking required. Spaces are limited.
We reserve the right to cancel or change the activity in the event of staff illness.
Weekly boat-themed crafts and activities inspired by our new exhibition Pushing the Boat Out: Shipbuilding and Ship Repair in South Tyneside.
26 July 2022
Learn how to make an origami boat model.
2 August 2022
Make rainbow sailboat collage art.
9 August 2022
Learn how to make a paper flat cap.
16 August 2022
Discover how to create a mini book from one sheet of paper. Decorate and fill your book with whatever is important to you, poetry, pictures or poodles!
23 August 2022
Make your own shipyard badge.
30 August 2022
Create a scratch art seaside magnet.