A Blaydon Races mystery
A Blaydon Races mystery. Could you help solve it?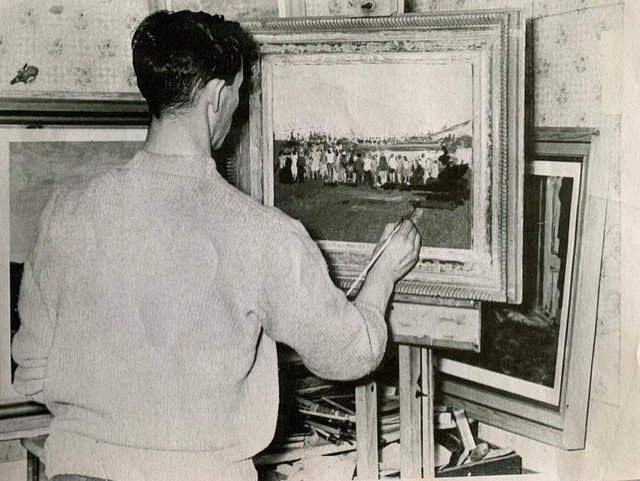 On the ninth of June, Tyneside will celebrate the 159th anniversary of an event which in many ways has come to define the North-East.

Gannin' alang the Scotswood Road and crossing the "chine" bridge to Blaydon racecourse has been long immortalised in song, but the tradition has figured less prominently in art.
One northern painter who did honour the great day on canvas was, John Peace, with his work, "The Ninth June, 1962," depicting crowds crossing Scotswood Bridge to Blaydon on that date to celebrate the 100th anniversary of the great day out.
Veronica, John's daughter said, "My Mum remembers my father putting his paints and brushes into the family pram, alongside me and my infant sister and them walking to Scotswood on a baking hot day that was full of happy crowds, to record the scene."
John Peace (1933-2017), born in Lemington, west of Newcastle, was a graduate of the Slade School of Art in London and a lecturer at Sunderland University. Over many years, he reproduced the changing face of northern life in all its aspects – beach scenes and pitheaps, back streets and wildlife, portraits and landscapes.
Veronica, John's daughter said "We believe it was bought from the Stone Gallery in Newcastle by a certain William Johnson OBE, but we have been unable to track down Mr Johnson or his family, despite all our efforts."
A new exhibition 'Tyne & Tide – John Peace – Selected North-East Paintings' will be on display at South Shields Museum & Art Gallery from 13 November 2021.

It would be wonderful if the Blaydon Races work could be located in time for this show. Please email info@johnpeacepaintings.co.uk if you can help in any way.
You can follow this story by visiting the John Peace paintings web site here.
The Peace family are also gathering details and photos of John's work for a back catalogue that they are putting together and have a current total of 438 paintings that they would love to find.