Our collections
Collection highlights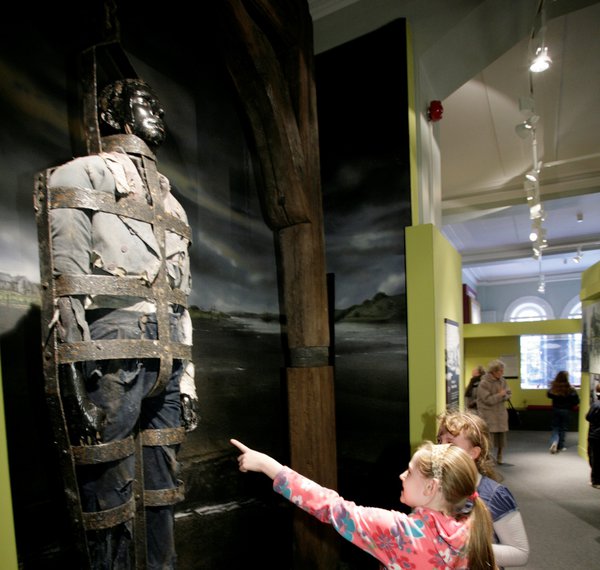 William Jobling's gibbet

Collections held at the Museum mainly relate to the natural, social, industrial and maritime history of South Tyneside and chart the areas history from the Bronze Age to the twentieth century.
---
Some of the Museum's most popular items include:
A surviving portion of William Jobling's gibbet
Jobling was the last man in England to be gibbeted. Charged with murder, he was sentenced to death by hanging and his body to be publicly gibbeted close to the scene of the crime on Jarrow Slake.
---
A tile map from South Shields Railway Station
The map now takes pride of place in the museum and is the only tile map in the country which has been removed and restored in one piece.
South Shields Railway station opened in 1879 in Mile End Road, just north of the present Metro station. The station was one of about 24 on the North Eastern Railway which had a tile map showing the railways of north east England as they were in about 1900. The map was saved in 1997 prior to the demolition of the last of the station buildings and donated to the museum by NEXUS.
---
The Ships Watch bell from the Royal Navy K class destroyer HMS Kelly
The Kelly was built by Hawthorn Leslie and Company at Hebburn and was commissioned on 23 August 1939. She served through the early years of the first world war but had an unfortunate run of luck. Whilst attempting to rescue another ship which had struck a mine off the Tyne Estuary, she too hit a mine and sustained damage to her hull. Just two days after returning to service following repairs she was involved in a collision with HMS Gurkha, leading to another spell in the dry dock for repairs. She finally met her end in 1941 during the Battle of Crete.
Art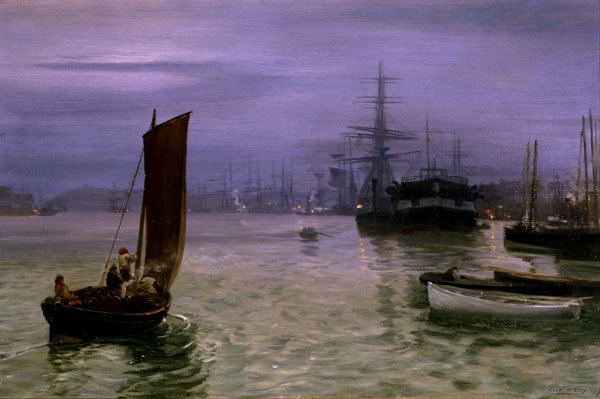 The Last Boat In by Charles Napier Hemy

The Museum holds extensive collections of local art portraying the area by local artists and personal memorabilia once belonging to popular author, Catherine Cookson.
South Shields Museum & Art Gallery's art collection consists of mainly 19th and 20th century works by British artists. Apart from the inclusion of some works by nationally recognised artists, the collection is largely 'local' in character either in its imagery, origins of artist or by its donor.
Perhaps not surprisingly, given the coastal location of South Shields, maritime subjects are a strong feature of the collection.
The art collection dates from 1873 when the former Mechanics Institute building reopened as South Shields' first free public library. Three years later, a room in the library was given over to the opening of a museum. One of its first acquisitions was an oil painting of South Shields Market Place (about 1800) by an unknown artist.
The Museum today occupies the whole of the former library building and the fine art collection consists of approximately 500 items including works by nationally recognised artists such as Charles Napier Hemy ('The Last Boat In'), Thomas Sidney Cooper, ('The Approaching Storm') and Harold Harvey ('Blackberrying'), artists popular in the North East such as John Scott, Ralph Hedley, and Robinson Elliott and by others too, not normally associated with fine art, such as novelist Catherine Cookson, who before finding fame and fortune through her written work had tried her hand as a commercial artist. Painting remained a passion of hers throughout her life.
Donations to the collection or bringing in items for identification
Please get in touch with us (via phone, email or letter) before bringing in your items to describe what you would like to offer, or what you need help with identifying. Send us a photograph if possible.
We'll reply letting you know if your offer is something we can accept, if we need more information, if we cannot accept your offer or to arrange a time for you to bring your item in.
There are a variety of reasons that we may not be able to take your donation. We have a Collections Development Policy that we must use when making a decision.
Please note that unless there are compelling and legitimate reasons, hazardous objects and substances will not be accepted.