Learning - Dolly Peel
Dolly Peel (1782 - 1857) was a famous South Shields character, a resourceful fishwife from the early years of the 19th century who was also a smuggler and a poet. A statue of Dolly Peel representing the resilience of local women, stands on River Drive in South Shields.
Download the activity sheet
Activity 1 - Take a photograph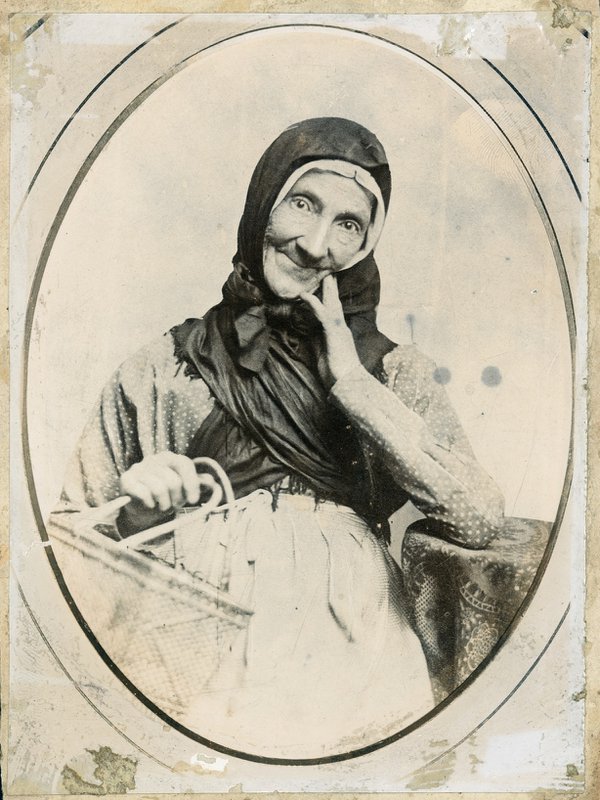 Look closely at Dolly's facial expression and body language in the photograph.
• What is she thinking about? How is she feeling?
• Why do you think she is posing with a basket?
• Where do you think she is?
Try and recreate this portrait yourself using only three things in your house.
• Take a selfie or get someone to take the picture for you.
Activity 2 - What is a portrait?
• A portrait is a painting, photograph, sculpture, or other creative representation of a person in which the face and its expression is the focus.
• A portrait tries to display the likeness, personality, and even the mood of the person.
• Visit Google Arts & Culture to see examples and explore more about portraiture.
Have a go at making a self-portrait.

• Think about how you want to be portrayed. Will you wear a costume, makeup, change your hair style?
• What will you be thinking about and what will you want to reveal about yourself to the viewer?
• Experiment with materials you have at home. You can use photography, collage, paint, pencils, pens, crayons, natural elements from the garden, etc.
Now try and make a portrait of someone you live with.
Activity 3 - The art of the word
Create lists of words and phrases that describe the portraits you have made.
• Some portraits tell a story or take the viewer on a journey. Think about the portraits you have created. Do they tell a story?
• Describe the setting, sounds and smells that might be present or the textures one might feel. Write a poem or short story using the vocabulary as inspiration.