Boldon Book: A Moment in Time
This is a historic exhibition. It is no longer available to visit and this page is only retained as a record of the previous event. For current and future exhibitions, visit our
What's On
page.
An exhibition featuring an early manuscript from the Bodleian Library.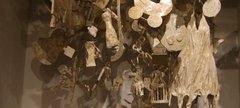 Until 3 June 2017 (historic exhibition)
Boldon Book has been called the 'Domesday Book of the North'. It was the first survey of settlements north of the River Tees, an area that was omitted from the Domesday study. It was created in 1183 as a survey of the Bishop of Durham's lands in Durham and Northumberland.
On display is the latest of the four surviving medieval manuscripts of the Book, written in the late 15th or early 16th century on loan from The Bodleian Library.
2016 marked the bicentenary of the first modern publication of the text of the medieval Boldon Book in 1816. This publication by the prominent antiquarian Sir Henry Ellis began to bring the Boldon Book into the public domain. To commemorate, two hundred years later, South Shields Museum & Art Gallery has worked with three community groups and two schools from the borough to capture their responses to some of the themes raised by the Boldon Book, marking a moment in time just as the Boldon Book does.