King Coal: the life and legacy of South Tyneside's coal mining communities
This is a historic exhibition. It is no longer available to visit and this page is only retained as a record of the previous event. For current and future exhibitions, visit our
What's On
page.
A new exhibition celebrating mining in South Tyneside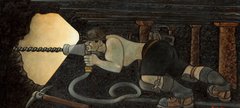 Until 29 September 2018 (historic exhibition)
Marking 50 years since the closure of Whitburn Colliery and 25 years for Westoe Colliery this exhibition celebrates the mining heritage of South Tyneside.
Featuring paintings by Bob Olley and exploring the impact on the lives of the coal communities from accidents and family life to the physical legacy of the coal industry in the South Tyneside area.