SCRAN! A history of Food & Drink in South Tyneside
Explore South Tyneside's evolving food and drink story.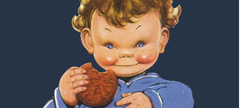 Food and drink is the mouth-watering theme for South Shields Museum's latest exhibition. The exhibition charts the story of food and drink across South Tyneside and celebrates the traditional cuisine of the North East, from regional favourites such as stottie cakes and leek pudding, to singing hinnies and panaculty.
In this exhibition, visitors can discover South Tyneside's evolving food and drink story, from Roman times up to the present day, and learn of the origins of some of the borough's most iconic eateries, including Colmans fish and chips, Dicksons pork butchers and Minchella & Co's ice cream. In the decades following the Second World War, culinary horizons were expanded with the introduction of flavours from places far beyond UK shores.
Free entry, donations welcome.