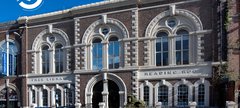 SEND Learning at South Shields Museum
We are dedicated to supporting all learners including those who have special educational needs and disabilities. To support learners we work in partnership with teaching staff and groups to develop workshops that provide inclusive learning experiences.

We offer a range of SEND workshops tailored to meet the history, literacy, and art and design curriculum, that encourage children to build their practical, visual and cognitive and communication skills. Activities that explore the rich heritage of the North East can include recreating the first life boat rescue, celebrating local heroes through portraiture, poetry, handling historical artifacts and more!
On site we offer a range of resources that may help some children with additional needs cope with the busy museum environment. If you would like to borrow these resources during your trip then please let a member of staff know.

Our learning team are qualified Arts Award advisers and all our venues are registered Arts Award supporters.
We have facilitated and moderated many inspirational Arts Award projects with local SEND schools. If you would like to partner with one of our museums and galleries on a special SEND Arts Award Project, please call us on 0191 211 5599.

Drop us an email at stlearning@twmuseum.org.uk
or call us on 0191 211 5599 to speak to a member of our learning team.

Kids in Museums: Take Over Day with Bamburgh School

Takeover Day is an annual event when we invite school children to take over museum jobs normally done by adults, and is a great opportunity to connect with different groups of children and young people, and pilot new ways of working.
This year is the 10th Anniversary of Take Over Day, and to celebrate, Bamburgh School pupils will be responsible for creating a virtual museum exhibition, showcasing work they have created based on our current exhibition featuring the works of the internationally-acclaimed local South Shields artist Sheila Graber.
A Discover Level Arts Award has been integrated into the programme. Through live online sessions, the children will participate in animation, movement, sensory, and creative-response workshops, which will further increase their enjoyment of creating and participating in arts activities.
If you would like information on how your school can participate in a similar programme, please get in touch by emailing a member of the learning team at:
Leslie.palanker-jermyn@twmuseums.org.uk or stlearning@twmuseum.org.uk
---
Sensory Journeys: Bringing stories to life with your help
Take part in our Sensory Journeys digital story-telling sessions, where you create the sights, sounds, smells, touch, and tastes to bring the stories to life. Or you can just sit back, relax, and listen! There are text versions for each story if you want to read along. Simple ideas are given for using materials easily found or made at home, making it easy to take part. Sensory Journeys can be enjoyed by everyone. They support the listener's understanding of his or her world by encouraging active participation in the story, enhancing engagement through enjoyment, and enriching communication and literacy skills.
These stories may be especially beneficial for those with Profound Multiple Learning Disabilities (PMLD) or Special Educational Needs Disabilities (SEND) because they are presented in an inclusive way that offers meaningful experiences through sensory engagement so that even the most profoundly disabled can take part.
Find out more about Sensory Journeys.