Creative thinking, doing, & making activities.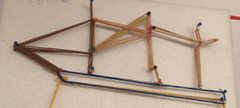 Maximum 32 children per session
Workshop length 3 Hours- £180.00.
Booking essential
If you would like to make an on-line enquiry for this workshop please complete the enquiry form, or if you wish to speak with Leslie in the learning team to discuss your visit please call:
0191 2115596

Let the imagination run wild!
Be prepared to be inspired, excited and challenged by local history and art.
This KS2 STEAM workshop is an opportunity to engage with the whole museum's collections and respond through creative thinking, making and doing activities.
Children will complete an array of challenges across the STEAM subjects of Science, Technology, Engineering, Art and Maths by inventing, designing, crafting, model making, and rethinking of ideas.
STEAM Museum Challenge aims to promote enquiry based learning, develop literacy and communication skills, and foster team building. Children will work together on their challenges and make a presentation on their projects in a sharing activity at the end of the day.
If you are thinking of engaging with an Arts Award this workshop would be an ideal activity as a starting point or supporting contribution.(Please speak with our learning team.)
*This workshop requires children to break up into 5 working groups which will necessitate the need for extra adult supporters from the school. We recommend you come with at least 4 adults.