Vince Rea
An exhibition charting the work and life of Vince Rea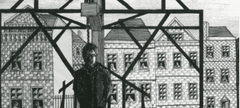 This new exhibition charts the life of Vincent Rea, a local artist and gallery-owner who was best-known for transforming a disused Cold War bunker in Springwell Park, Jarrow, into the nationally recognised Bede Gallery.
The exhibition showcases a wide variety of Rea's creative works, including ceramics, abstract artworks, line drawings and photographs.
Free entry, donations welcome.