Inspiring Children through museum collections.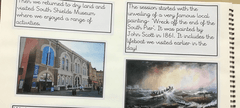 What is the Take One Treasure Virtual School Learning Offer?
A bespoke class or whole school project that explores cross-curricular themes and subjects through a work of art and supporting object in our collection.
Creative and enquiry based activities.
Opportunity to have a museum exhibition.
Supports Take One Picture @ National Gallery.
Arts award option.
If you would like to discuss options and pricing for your school please get in touch at stlearning@twmuseums.org.uk.